Zeems Cheeky D.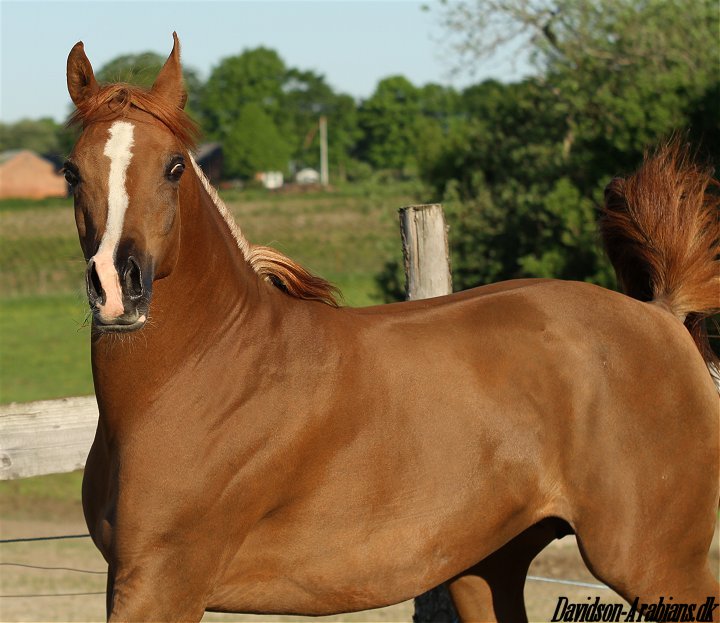 (Nazeem Ibn Jashana x Cody Makida D./Makur)
Born 01.04.2006 / chestnut / 154 cm tall
SCID clear - CA clear

For sale

Find more pics of Zeems Cheeky D. in the gallery.

Cheeky as we call her is very special to us - she is 2nd generation from our own breeding from our foundation mare Wimpy, who lost her fertility in a young age due to an abortion.

Zeems Cheeky D. sire is the FS Eternal Flame son Nazeem Ibn Jashana who was leased to he stud from September 2004 until May 2005. Nazeem is a very big and powerfull stallion and he show great potential in dressage, also he has achieved several gold medals at shows and at Scandinavian Open Championships, Blommeröd, Sweden in 2005 he reached 90 points. The mother of Cheeky was our mare Cody Makida D. whom we sold as she was pony size - but Nazeem made compensations for that as Cheeky at the age of 2 was bigger than her mum.

Cheeky lives up to her name as cheeky is what she is - she is an amazing young mare with a curious mind, she want to check out everything, she is rather cool and always ready for fun. She is so much like her mother in mind - nice, cool and quiet, and yet showy.

Cheeky was in Holland for training and showing in 2008 - and we are very satisfied with her results. She was trained and shown by Chris Van Schalkwijk, Arabian Fantasie, Holland

In 2009 Cheeky will be broke to ride and also she will be bred for the first time, and we are looking forward to see the 3rd greneration in our breeding from her first foal.

Show record:
2014: DSAH Licensing, grade 1B
2008: International A show, Vilhelmsborg, Denmark - 87,88 points
2008: International B show, Ströhen, Germany - 88,3 points - 19-20-19 for movements..
2008: Emerald Trophy International B show, Brecht, Belgium - 86,3 points

Offsprings at Davidson Arabians:
2018: Check Me Out D. by MM Sultan, filly, liver chestnut
2016: D. Extra-Wagant by Wagant, colt, grey
2015: D. Checkmate by Bolero EM, colt, bay
2014: Utopia D. by SC Dagasn. filly, chestnut
2013: Dreamin Dido D. by Duval, filly, bay
2012: D. Upside Down by SL Carrera, colt, chestnut
2011: D. Massive Touch by Massimo Ibn Mirokan, colt, bay.

Zeems Cheeky D.

Nazeem Ibn Jashana
FS Eternal Flame
Kubinec
Balaton
Kometika
Temptress MSC
Traditio
SH Echantress
Jashana
Esthasan Ibn Estopa
Ibn Estopa
Estasha
Jamira
El Mokari
Jamila El Shaklan
Cody Makida D.
Makur
El Mokari
El Shaklan
Mohena
Malinka
Pacific
Malu
Wimpy
Symba
Vympel
Maggina
Pashina
Pacific
Silver Shower
---