Dirty Diana: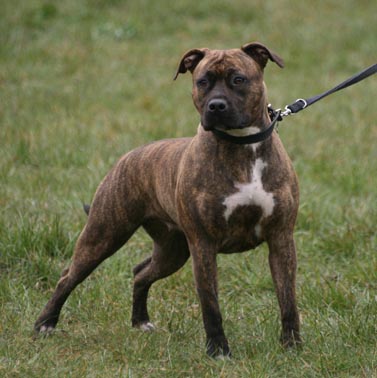 Highland Amstaff Dirty Diana
(Dalilyblessings Chesty x Amy/Alvarez's Roshambo)
Psygological test: Passed. HD+AD: B/C+00
Dirty Diana is our American Staffordshire Terrie. She is born the 22th. of September 2005 at Kennel Highland Amstaff in Vodskov, Denmark and she is always ready to attack a bottle of shampoo, a pair of shoes or anything else that she just might pass on her way.

The 8th of April Diana passed the psychological test, she was almost fearless and we were told that she has a fantastic temper and she reacts very close to the ideal mental profile for American Staffordshire Terries.

In the autom 2007 Diana received her breeding aproval as she was x-rayed with satisfing results and got a 2nd price at her first dog show.

Also se the pictures of Diana in the gallery.

6 months old


5 months old


4 months old


3 months old


8 weeks old


5 weeks old

Photo: Highland Amstaff
3 weeks old

Photo: Highland Amstaff
2 weeks old

Photo: Highland Amstaff
1 week old

Photo: Highland Amstaff
Read more about Highland Amstaff at www.highland-amstaff.dk