Leased stallions: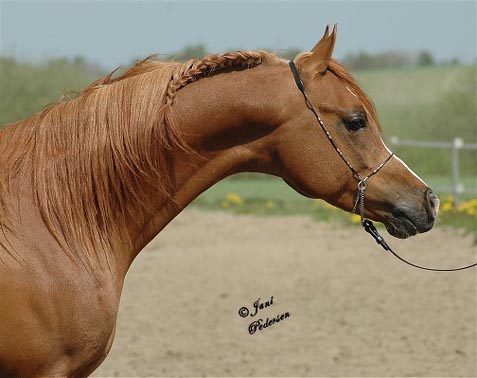 Nazeem Ibn Jashana ox 3411
(FS Eternal Flame x Jashana/Esthasan Ibn Estopa)
Born 21.04.2001 / chestnut / 159 cm
Leased from Magic Arabians, Marianne Lorentzen, Nibe, Denmark
Nazeem came to us in September 2004 and was here untill the end of May 2005. Since we didn´t get any foals from frozen semen last year, Nazeems task at the stud primarily was to test the mares, so in 2004 the breeding season for Nazeem was a bit longer than normally.
Nazeem has strong legs, nice body and a very beautiful head with good dish. We find his pedigree very interesting and are looking forward to seeing his foals. We are expecting 3 foals from him due Marts/April 2006.

Show results:
2003 The national show, 86,33 points
2005 International show in Blommeröd, Sweden, 90 points
2005 The national show, 88 points

Offsprings at Davidson Arabians:
2006: Sweet Caress D., filly, chestnut.
2006: Zeems Cheeky D., filly, chestnut.
2006: White Reflection D., filly, chestnut.

Click here to find more pictures of Nazeem Ibn Jashana.
Nazeem Ibn Jashana
FS Eternal Flame
Kubinec
Balaton
Menes
Panagia
Kosmetika
Muscat
Karta
Temptress MSC
Traditio
Gdansk
Halali Tamarisk
SH Echantress
DWD Tabasco
Shaed-E Lady
Jashana
Estashan Ibn Estopa
Ibn Estopa
Shaker El Masri
Estopa
Estasha
Shaker El Masri
Estpoa
Jamira
El Mokari
El Shaklan
Mohena
Jamila El Shaklan
El Shaklan
Jeanette
---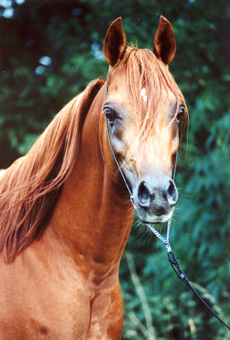 Makur ox 2578
(El Mokari x Malinka/Malu)
Born 24.04.1996 / chestnut / 150 cm
Leased from Bent Nielsen, Holstebro, Denmark

Makur came to Davidson Arabians in the end of January 2001 and was here untill September 2002. I first saw Makur one day I went to visit Bent to see what mares he had for sale, and I fell for him that day. He has a nice compact body, small head with very big eyes. Makur has great charm and charisma and a ray of riding qualities.

While Makur was here he was broken to ride and I have ridden him in dressage and western competitions, and his riding qualities he has passed on to his offsprings.

Show resultats:
1997 International B show, 87 points, junior champion
1999 International B show, 86,33 points
2001 International B show, 82 points
2001 The national show, 88 points

Offsprings at Davidson Arabians:
2002: Cody Makida D., filly, chestnut
2002: D. Shan´n Jan Memory, colt, chestnut
2003: D. Midnight Rodeo, colt, chestnut
2003: Sweet Miss D., filly, bay
Click here to see more pictures of Makur.
Makur
El Mokari
El Shaklan
Shaker El Masri
Morafic
Zebeda
Estopa
Tabal
Uyaima
Mohena
Hadban Enzahi
Nazeer
Kamla
Morisca V
Tunante
Fabiola
Malinka
Malu
Nasmeshnik
Arax
Neposeda
Peace
Naplyv
Rose
Pacific
Masir
Mehanna
Bint Shahbaa
Sheila
Silver Scenario
Samirha