Memories..

A time comes in every breeders life when we get to know someone that we loose much too early. Someone we miss dearly, someone we will never forget and who always will have a special place in our hearts. In the year 2009 it has become that time for me - time to make this page to remember our lost and loved ones.
---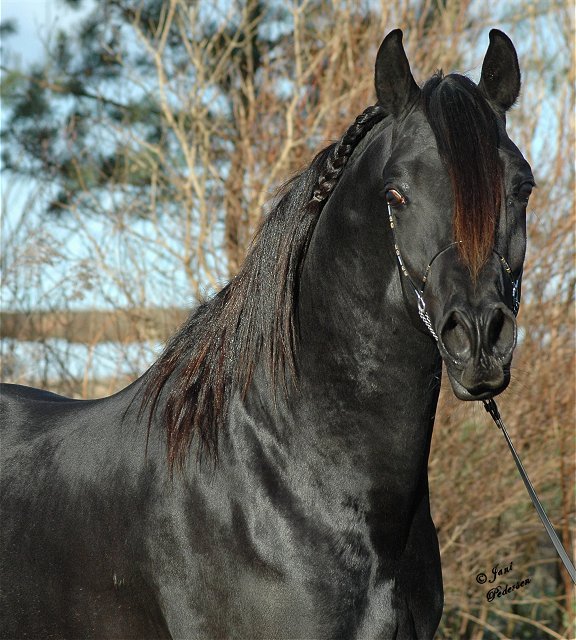 PA Nafal Ibn Sharim ox + 4307
Photo: Jani Pedersen
(Pasha Sharim x PA Shah Nigra/Shahin Ibn Naskhi)
Born 16.06.2003 - died 21.11.2010
Homozygoys black / 160 cm
SCID clear - CA clear - OCD clear

My beloved Nafal was torn out of my hands in the afternoon on November 21st 2010.
My loss is undiscribeable. He was my one and only in the almost 5 years he was here.

In the autum 2005 I was surfing around the Internet and by coincidence I found the web site of Polar Arabians, Germany and a photo of a young black colt on the sales site. A colt that somehow made a special impression on me, so I kept coming back to see his picture again and again - I took contact and bought Nafal unseen from pictures and the feeling in my heart.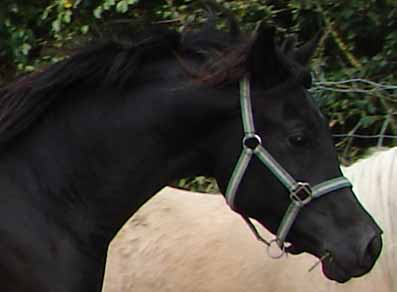 Nafal arrived in Denmark on December 10th in 2005 and I clearly remember this hairy, and not that charming colt that carefully stepped out of the truck. I had to admit I was not that overwhelmed with my purchase and was thinking - okay we can always sell him again.. - a thought I have taken back so many times ever since. Nafal was the one that I would never sell, not under any circumstance and not for any price.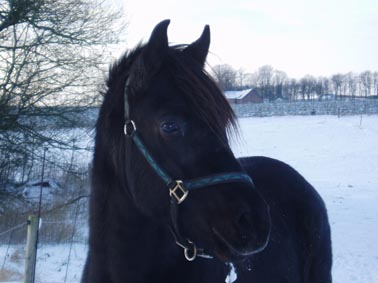 Nafal showed to be pretty tall with super movements and was very gentle and easy to be around in daily life. In summer 2006 we backed him without much problems. The problems came later on with sadle, followed by back problems that made him want to run away from his rider. So I have seen the intire neighbourhood from his back at very high speed. This made a scratch in our relationship as horse and rider and it took quite some time for us to get over it - but we did and he was a pleasure to ride - so cool for what ever was around him and yet so very sensitive to his rider.
Nafal was a one-mans horse and it was alwas very diffucult for me not have him at home.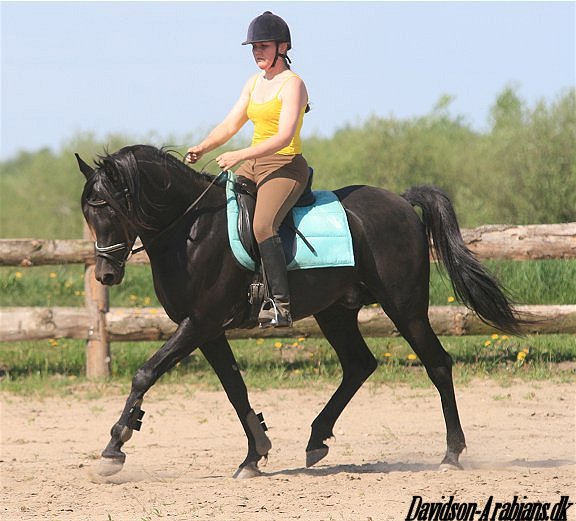 In 2008 I took the decision of sending him to Holland for show training and showing.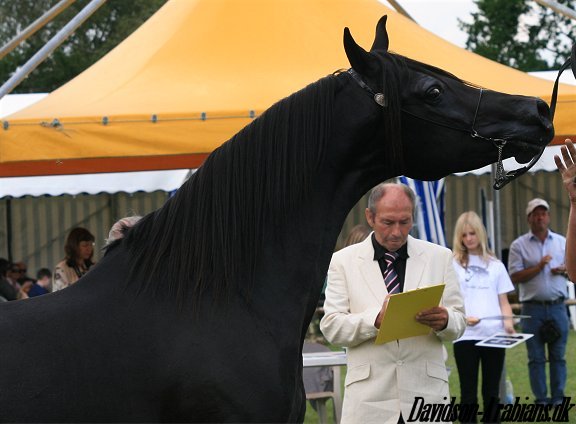 He was shown on International level in Belgium, Germany and Denmark. In Begium he became class winner with 89,5 points, unanimous 20 for movements and was senior Champion Stallion and at the International A show in Denmark he was the best Danish Stallion in a very strong class with almost 2 points to the second best Danish stallion in the class who was National Champion the same year..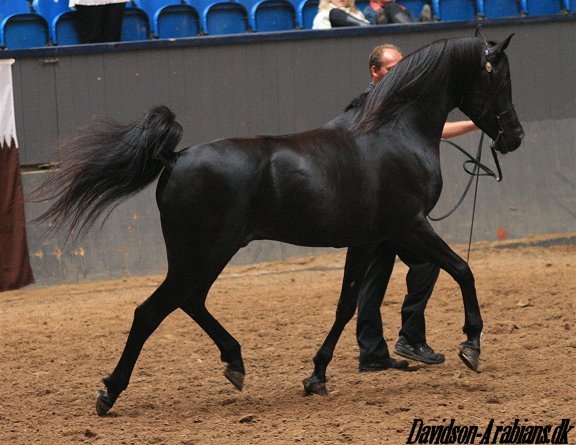 I was so happy and proud of my boy - he had proved himself to be more than just a black stallion.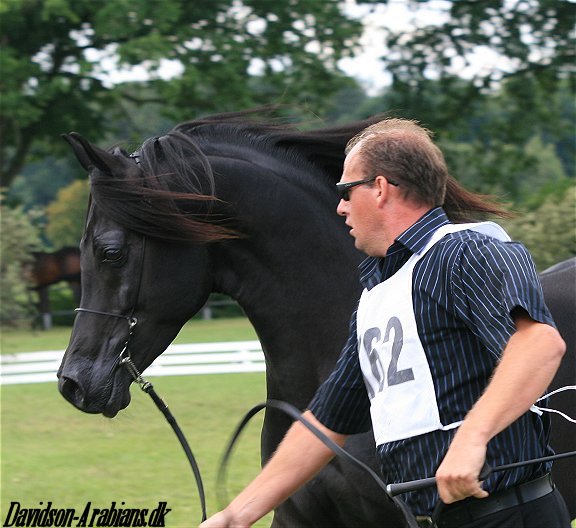 Several people encurraged me to enter him at the Shagya/Anglo stallion licensing and so I did the same year. However it was no succes for us and he was not licensed. Some people told me not to give up but to enter him at the Trakehner licensing in stead - this was complete nonsens in my ears but we had nothing to loose and everything to win, so after some consideration Nafal was entered in the Trakehner licensing in February 2009 - and he was licensed!!!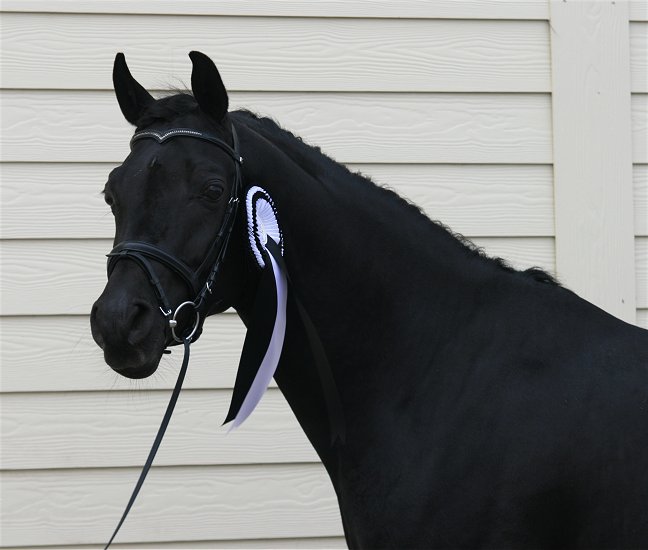 I was overwhelmed and so proud of him.
The only thing I hadnīt thought through in this was the obliged 30 days performance test in Germany that he had to pass if I wanted his licensing to be for good and not just for a year.
The licencing was on February 22nd and the first performance test was starting on March 1st.. Very short notice, but they could take him and a week after the licensing we went to Germany.
I completely lost it when I had to leave him there and I cried like a little girl and just couldnīt stop. I loved him so much and he was so far away from home and I was so nervous on how he would handle all the demands that he would have to deal with in the coming 30 days - he didnīt have much trust and confidence in riders that he didnīt know.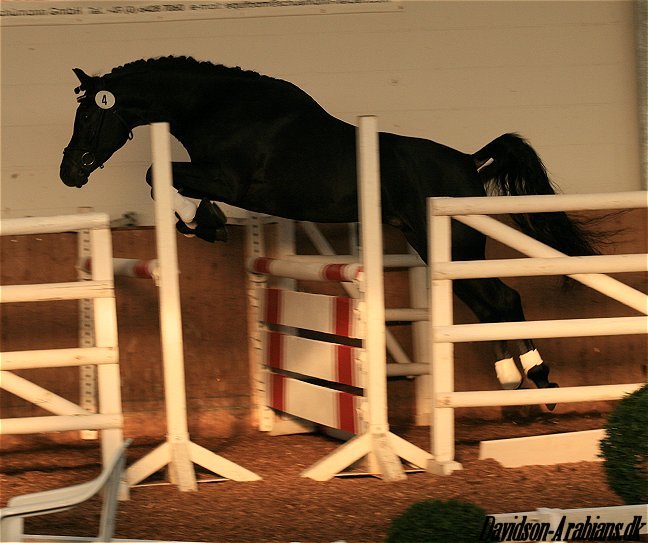 But the team at the test center was very good and Nafal passed the test and was licensed in the Trakehner Studbook for good.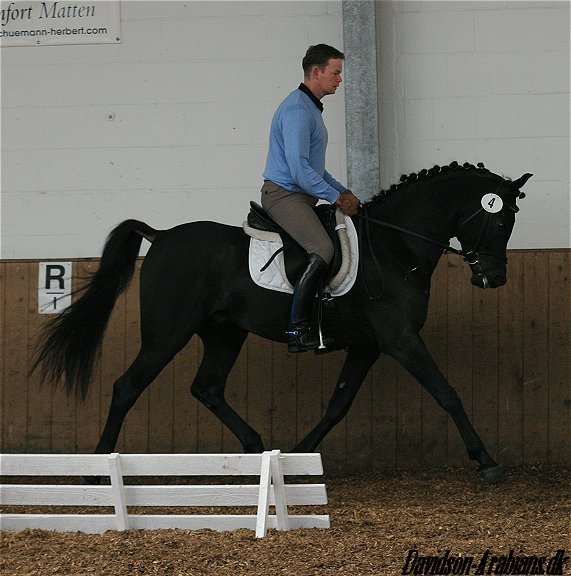 When the test was finish Nafal was very tired and it was like he knew he was done and that I was there to bring him home.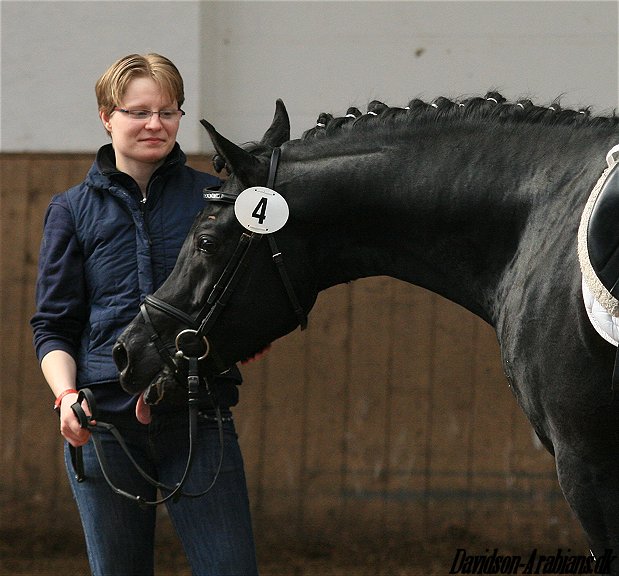 Again he had more than fulfilled my dreams and hopes for him and I knew in my heart that I would never send him away from home again.


Nafals licensing in the Trakehner Studbook automatically gave him a license in the Shagya/Anglo Studook, from the back door so to speak, as they approve on the Trakehner licensing.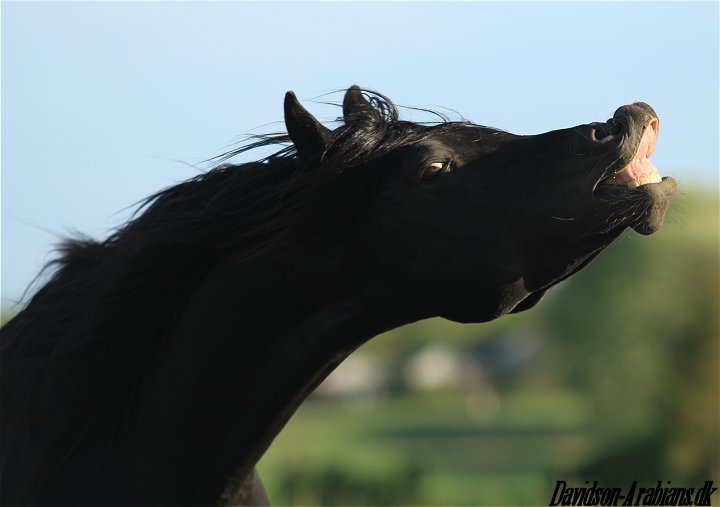 He never got any Trakehner offsprings but in the summer 2010 his first Shagya foal was born.
And taking a look at the ranking list for most used stallions in Denmark in the 2010 breeding season for the Shagya/Anglo Studbook you will see Nafal ranking as number 1..

To the very end he gave me every reason to be proud of him.

November 21st 2010 was a day starting like any other day. A happy and alert Nafal claimed for his morning kiss and his breakfast as usual. He finished his food and we nipped the gras on our way to the his pasture like always.
In the afternoon around 3pm I was getting ready to bring the horses in which he observed and came to the gate, well knowing that he was not the first to go in. He was waiting for me. At sudden I saw him trembling with his one front leg lifted a bit so I thought he was stuck in the fence and ran to him. He fell to the ground before I reached him and I held his head in my arms in the mud, he looked at me and opened his mouth and I could see that the skin in his mouth was all white - and then I knew.. He blinked, cramped and took his last breath in my arms.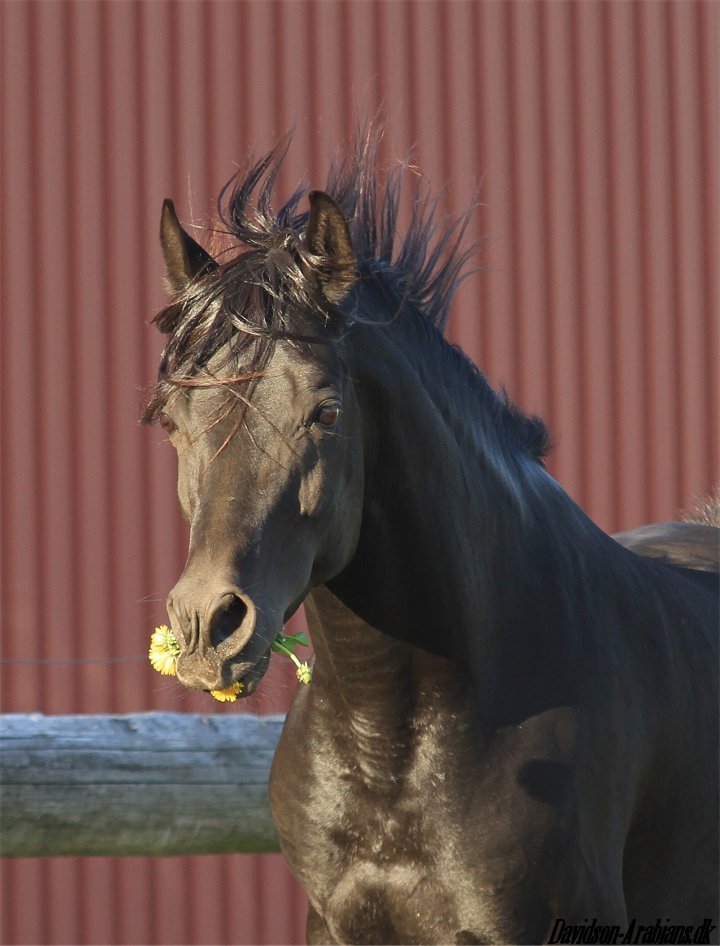 In a split second my black giant was torn away from me with no warning - no reason.
He who had given me so much more than anyone else, he who was so unique for me.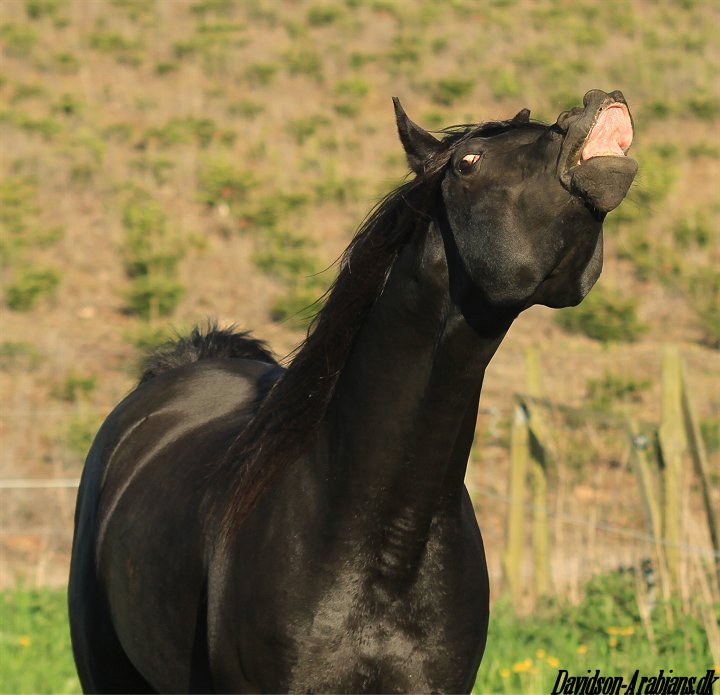 I have a 1000 questions, no answers and awfull experience that I keep reliving again and again everytime I close my eyes and try to sleep. An experience I can never put behind me.
I do have comfort that I was there for him despite itīs so hard on me afterwards and I have a great relief that I have a worthy substitute for him in his black son D. Desert Eagle.

In his much too short life Nafal acomplished what no Arabian has done in our country in more than 30 years if ever.
He was International Champion, fully licensed in the Trakehner Studbook, performance tested and Highest ranking stallion on the breeding statistic in the Shagya/Anglo Studbook.

Everyone who met Nafal was amazed with his gentle and easy mind, his amazing presence and way to present himself.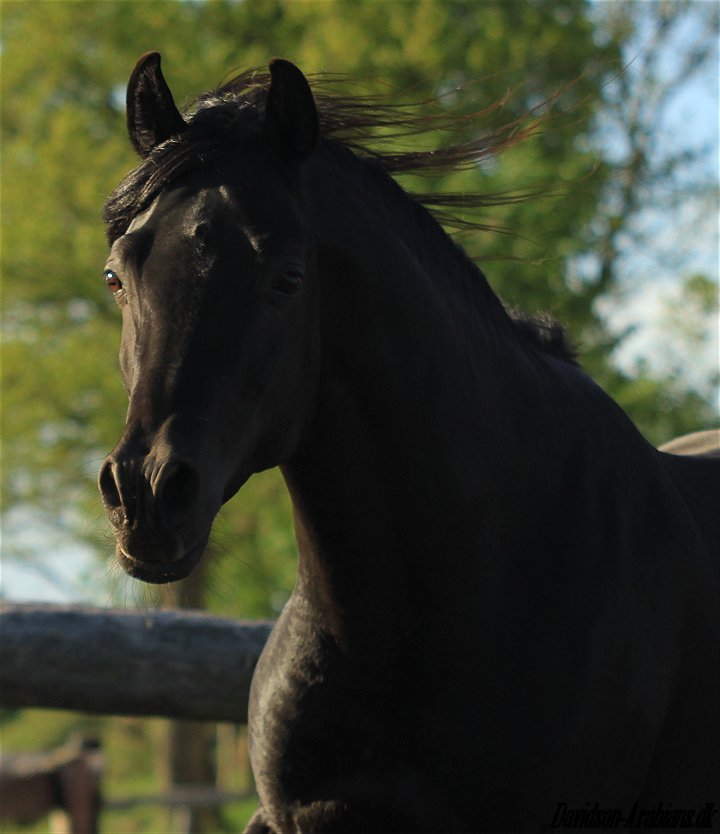 He was unique in all ways, and most of all he was more than unique for me.
He was my ugly duckling that became my most admireable swan.
He was my pride - He was my one and only - He was my everyting..

May you rest in piece my love...
---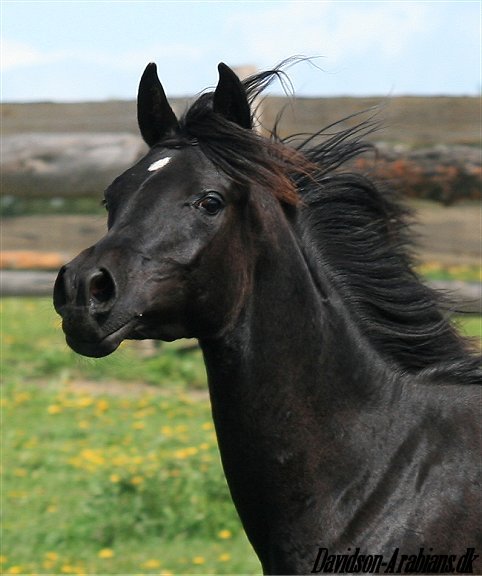 D. Final Victory
(PA Nafal Ibn Sharim x Victoria Lynn)
Born March 9th 2008. Died May 4th 2009

Our dear Victor has gone to the land behind the rainbow where the grass is always green at the age of nearly 14 months old.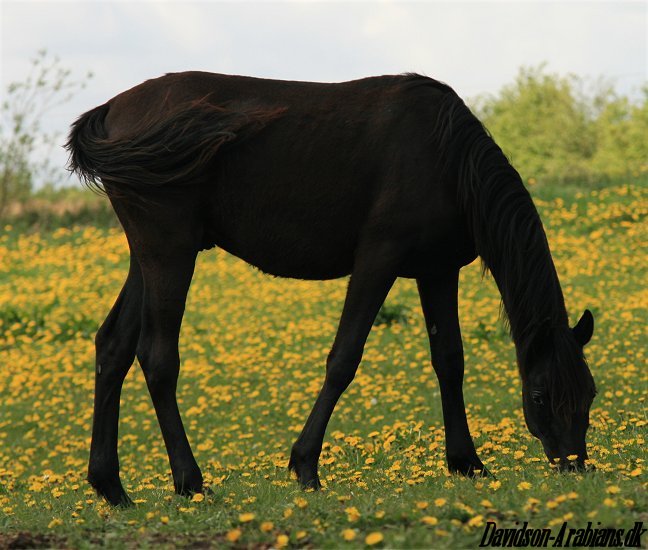 He was less than 24 hours old when he was hospitalized the first time with his mum. I wanted him to live, not for me, but for his mum as she has had 2 abortions the years before, and I wanted for her to have a baby to be a mum for this time.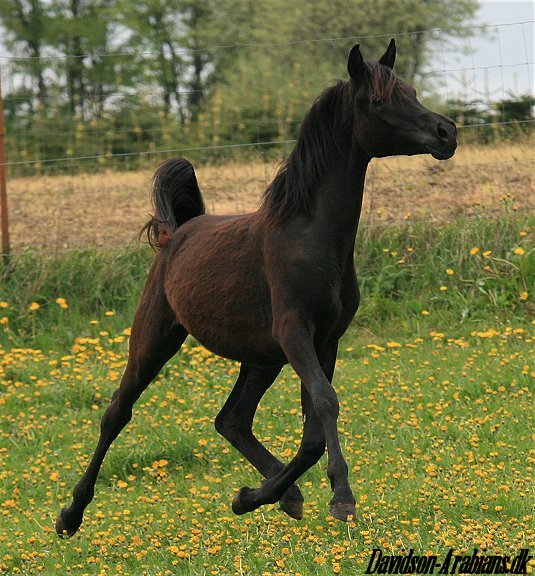 Victor won his first battle in life and as he also was a victory on the Herpes Virus we named him D. Final Victory.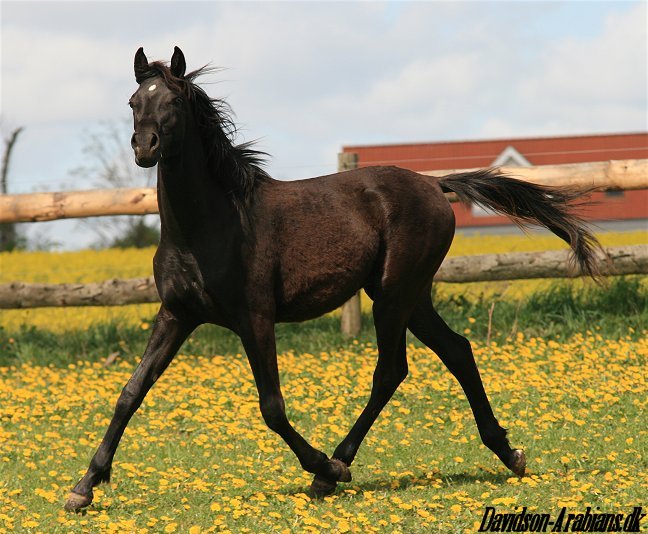 Everything was fine for some time and he travled with his mum to be bred again. When he was back it was clear to see that he didnīt move as he should. He did make a stunt in the trailer and somehow forced a skill on the way, but in the end we will never know what exactly was wrong with him.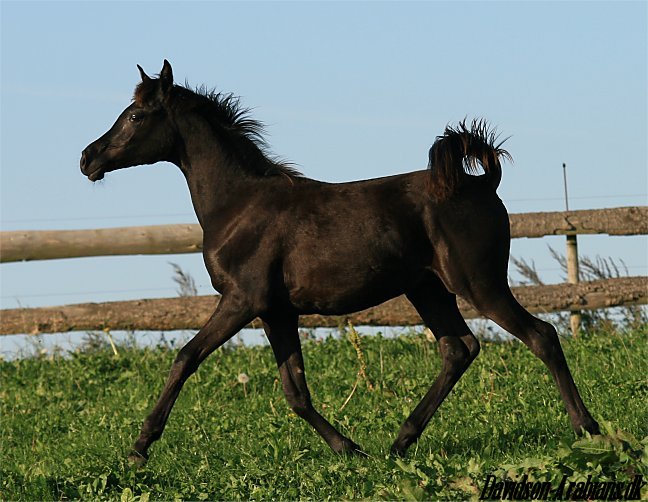 5 Vets have seen him, x-rays, operation, chiropractics, acupunctur, medicine and pain treatment we went through it all, but nothing seemed to make much difference.. At last they all agreed - he will never recover..
It was a tough sentence.. and it has been incredible hard on me to carry it out.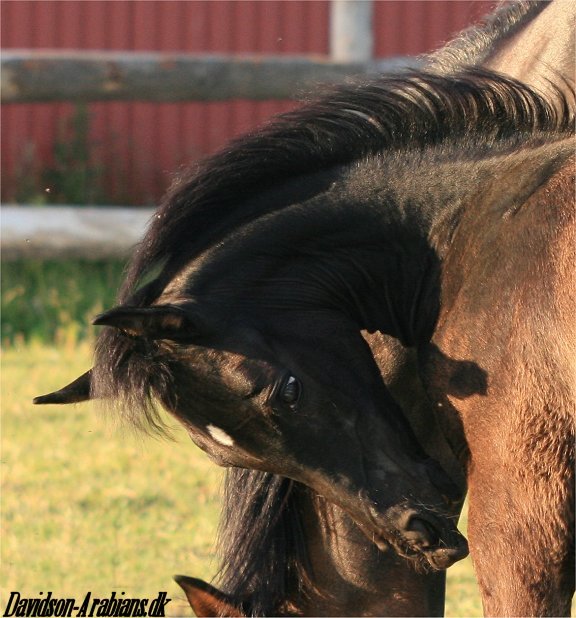 I find comfort knowing that we did what was ever possible for him, that he was happy with the life he had here playing with his mates, that he dosenīt have any pain anymore and he did fulfill my first wish for him - to live and give his mum a chance to be a mum. Now he is now as happy as can be running around behind the rainbow with his brother and sister who never got the chance to see the daylight in their eyes.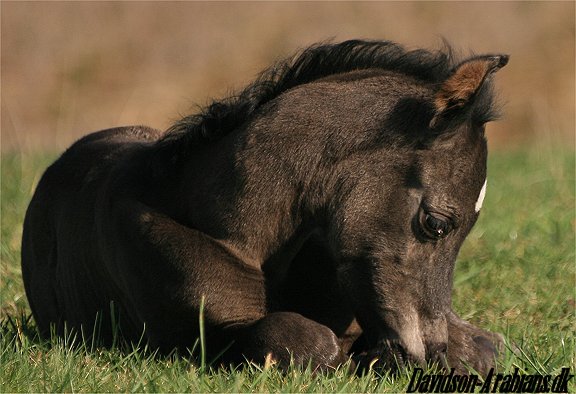 Sleep well my baby

I gave him life, fought for him to keep it - and yet I took it away from him
May God forgive
---