This page is dedicated to Pann, whom I had to say goodbye to much to early.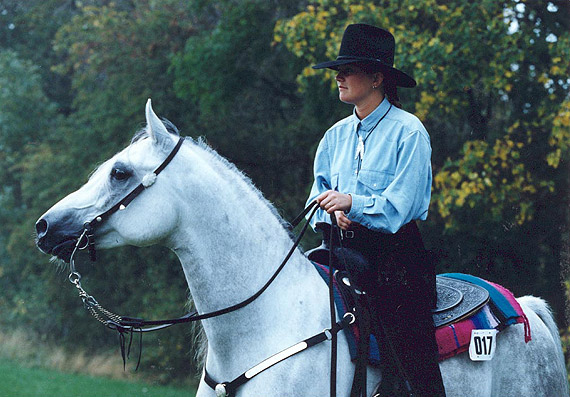 Pann ox 1319 was my first pure-bred Arabian. I bought him from Dan Arab in 1991 when he was 2,5 years old. He became my true friend for the next 10 years. We have competed in LA jumping, dressage and several western disciplines. He was the stallion you could ride only with a rope around his neck, also among mares - we always knew where we had eachother.

We have so many good hours behind us, among others from 1994 and 1995 where we travelled around in Denmark with other Arabians, we called us the DSAH Show Team. Our task was to show people that the Arabian horse also can be ridden and not only is a show horse. I remember one time when we were late for the ferry and had to wait another 4 hours on the harbour. Pann and I went sight seeing on Kalundborg Harbour, a place where not many have been riding their Arabian stallion. Once we were dressed as a horse guard at Halloween, and we have been pictured on the poster in the Harley Davidson Club of Denmark members magazine. A star in the show arena was a thing he never became, but he will always be the star in my life.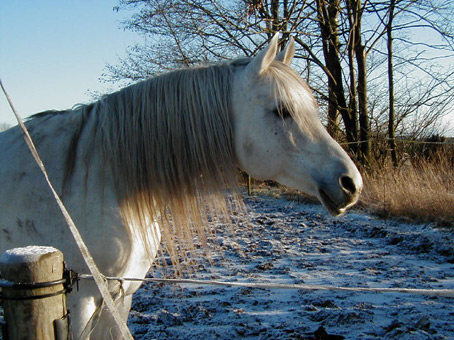 In a jumping contest at the international DSAH show in 1997 at Vilhelmsborg, Århus, something happened to him and I had to jump of him and limping he left the arena. That was our last competition and I was never able to ride him again. But at that time his home was at Davidson Arabians and not at the riding school, so he retired and he seemed to like that.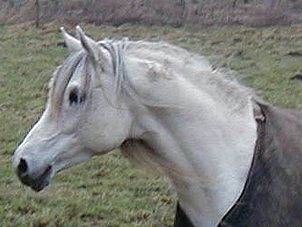 December the 31th 2000 a gelding by accident came to close to his paddock and Pann wanted to fight him, but his right front leg got hook up in the fence and he was bleeding heavily. The scratch wouldn't recover and an x-ray showed that the bone was damaged and he needed an operation if he was to get over it. But putting him through that and afterwards weeks in the stable would kill him, so I decided to wait and see how things would work out for him. And he was doing ok when he was calm and not running too much around. But one day when he got a bit to eager, he jumped up and when he landed, he fell on his knees, - he was no longer able to carry his own weight. That day I knew it was over and the only right thing for me to do was to give him peace, and that I did on January the 26th 2001. He leaves only one offspring behind - and that is Harley Davidson, the first foal ever bred from Davidson Arabians.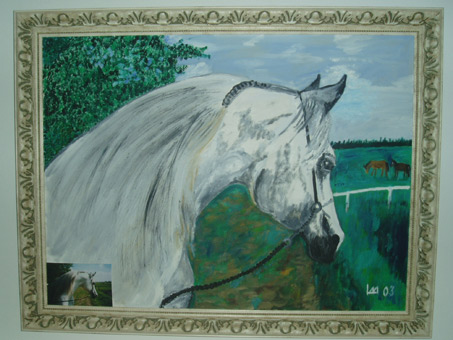 All I have left now is all the good memories and pictures from the 10 years we had together. Even though I can't see him alive, his soul rests on the farm forever and his spirit will always be with us. His picture and name plate from his box is still hanging in the stable and no matter where I am, his portrait is always with me. I will always love and miss him.

Pann
Naiman
Moment
Salon
Negatiw
Sonata
Malpia
Priboj
Mammona
Narada
Aswan
Nazeer
Yosreia
Neposeda
Priboj
Nomenklatura
Paciritt
Pacific
Nasmeshnik
Arax
Neposeda
Peace
Naplyv
Rose
Gritt
Yalek
Grojec
Khayala
Samirha
Nasmeshnik
Susannah
---