Horses for sale:

Price levels:
* < = 3.500 Euros
** = 3.501 - 6.000 Euros
*** = 6.001 - 10.000 Euros
**** = 10.001 - 20.000 Euros

Feel free to contact me for further details on the horses listed below
charlotte.davidsen@mail.tele.dk / +4521221075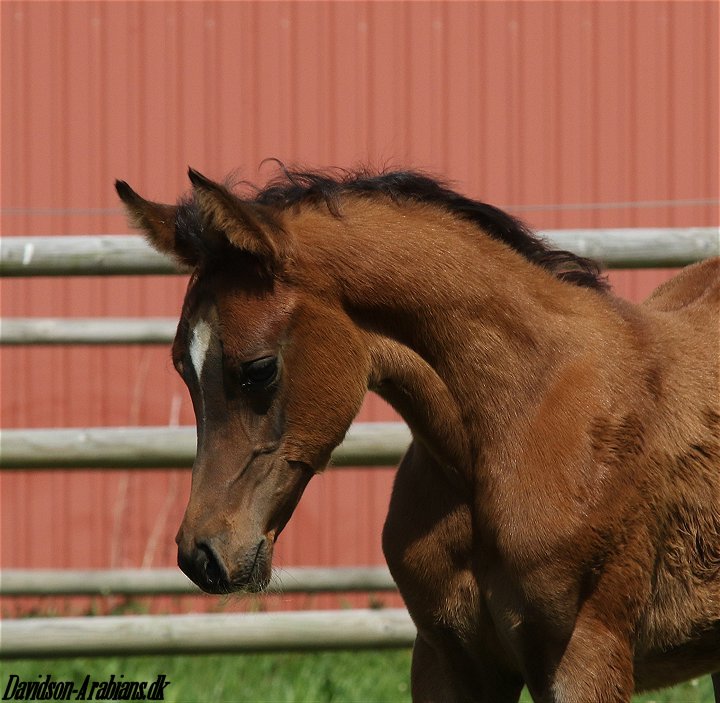 D. Remarcable
(D. Van Marc x Elunah Monpelou/Massimo Ibn Mirokan)
Born April 14th 2017 / colt / bay
SCID clear - CA clear

Price level: **

Super showy and cool colt.
Strong body and legs and he knows how to use them
Will make a super all round prospect.

Gallery
D. Remarcable

D. Van Marc
Van Gogh AM
Magnum Psyche
Padron Psyche
A Fancy Miracle
Ynazia HCF
AF Don Giovani
NV Tayma
Precious Marcia D.
QR Marc
Marwan Al Shaqab
Little Liza Fame
AF Escada
Nadir I
Palotasza QQ
Elunah Monpelou
Massimo Ibn Mirokan
Mirokan
Mirok Monpelou
Merana
Marenga
Menes
Marei
Wushika Monpelou
Duval
Vympel
Derjava
De Monpelous Berseba
Purpur
Cadanza
---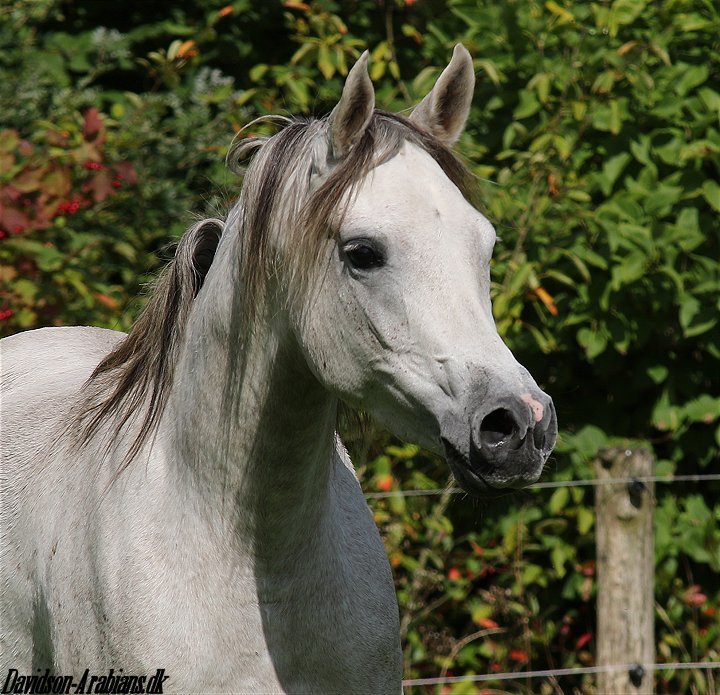 Sylvia
(SL Carrera x Tessa/Om El Tanam)
Born 02.07.2013 / mare /gray / 155 cm tall
SCID clear - CA clear

Price level: **

Sylvia is sired by our SL Carrera and that is the reason for her being her with us.
She is a big and strong build mare with a gentle mind looking for a new good home.
Currently being started under sadle and is doing well.
Can also sell in foal to one of our stallions.

Gallery

Sylvia
SL Carrera
Kubinec
Balaton
Menes
Panagia
Kosmetika
Muscat
Karta
Salaa Diva
Salaa El Dine
Ansata Halim Shah
Hanan
Bint Deladiva
Ansata Sinan
Om El Deladiva
Tessa
Om El Tanam
Sanadik El Shaklan
El Shaklan
Mohena
Aabacus Shacara
Carmarque
Aabacus shaklana
Tera
Schulisco
Jalisco
Shura
Frontera
Negal
Favila
---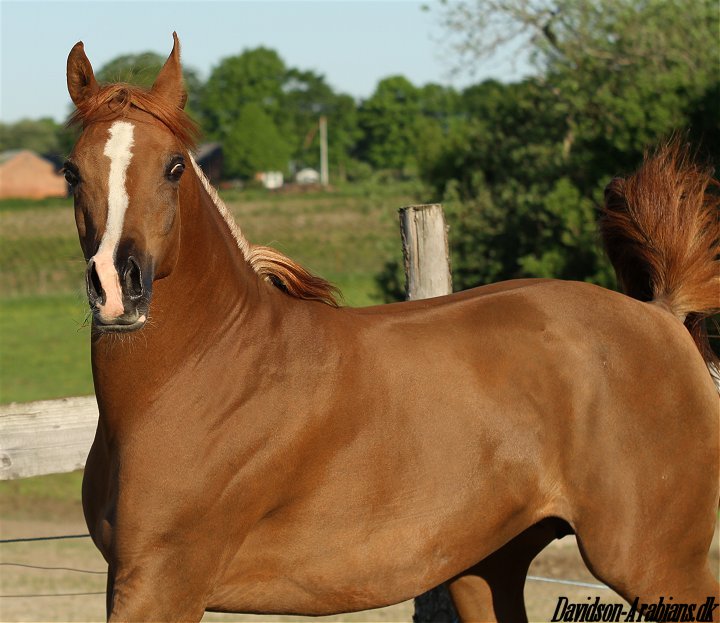 Zeems Cheeky D.
(Nazeem Ibn Jashana x Cody Makida D./Makur)
Born 01.04.2006 / chestnut / 154 cm tall
SCID clear - CA clear

Price level: ****

Cheeky is an outstanding broodmare
2 of her foals are class winners at DSAH Shagya/Anglo licensings
Cheeky herself is licensed with grade 1B
Her daughter Dreamin Dido D. is also licensed with grade 1B and awarded with a silver medalj

Cheeky is 2. generation from our foundation mare Wimpy, and the situation right now is that we have no use for both Cheeky and 2 of her daugthers in our breeding program.
We plan to keep one of them and time will show which one.

Cheeky is easy to get in foal - normally in first try no matter if fresh or frozen semen.
She sells in foal to our ELITE stallion MM Sultan and is due in May 2018

Find more pics of Zeems Cheeky D. in the gallery.

Cheeky as we call her is very special to us - she is 2nd generation from our own breeding from our foundation mare Wimpy, who lost her fertility in a young age due to an abortion.

Zeems Cheeky D. sire is the FS Eternal Flame son Nazeem Ibn Jashana who was leased to he stud from September 2004 until May 2005. Nazeem is a very big and powerfull stallion and he show great potential in dressage, also he has achieved several gold medals at shows and at Scandinavian Open Championships, Blommeröd, Sweden in 2005 he reached 90 points. The mother of Cheeky was our mare Cody Makida D. whom we sold as she was pony size - but Nazeem made compensations for that as Cheeky at the age of 2 was bigger than her mum.

Cheeky lives up to her name as cheeky is what she is - she is an amazing young mare with a curious mind, she want to check out everything, she is rather cool and always ready for fun. She is so much like her mother in mind - nice, cool and quiet, and yet showy.

Cheeky was in Holland for training and showing in 2008 - and we are very satisfied with her results. She was trained and shown by Chris Van Schalkwijk, Arabian Fantasie, Holland

In 2009 Cheeky will be broke to ride and also she will be bred for the first time, and we are looking forward to see the 3rd greneration in our breeding from her first foal.

Show record:
2014: DSAH Licensing, grade 1B
2008: International A show, Vilhelmsborg, Denmark - 87,88 points
2008: International B show, Ströhen, Germany - 88,3 points - 19-20-19 for movements..
2008: Emerald Trophy International B show, Brecht, Belgium - 86,3 points

Offsprings at Davidson Arabians:
2018: In foal to MM Sultan due May
2016: D. Extra-Wagant by Wagant, cot, grey
2015: D. Checkmate by Bolero EM, colt, bay
2014: Utopia D. by SC Dagasn. filly, chestnut
2013: Dreamin Dido D. by Duval, filly, bay
2012: D. Upside Down by SL Carrera, colt, chestnut
2011: D. Massive Touch by Massimo Ibn Mirokan, colt, bay.

Zeems Cheeky D.

Nazeem Ibn Jashana

FS Eternal Flame

Kubinec

Balaton

Kometika

Temptress MSC

Traditio

SH Echantress

Jashana

Esthasan Ibn Estopa

Ibn Estopa

Estasha

Jamira

El Mokari

Jamila El Shaklan

Cody Makida D.

Makur

El Mokari

El Shaklan

Mohena

Malinka

Pacific

Malu

Wimpy

Symba

Vympel

Maggina

Pashina

Pacific

Silver Shower
---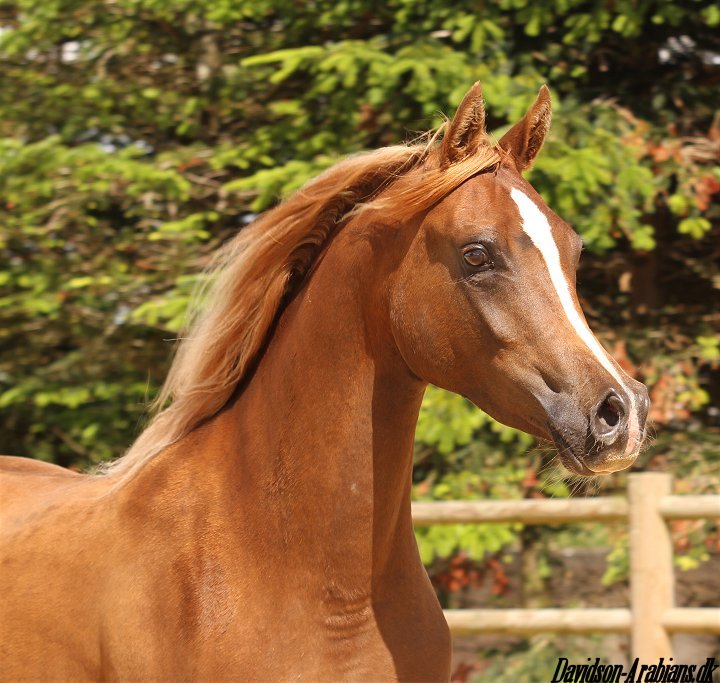 Utopia D.
(SC Dagash x Zeems Cheeky D./Nazeem Ibn Jashana)
Born 24.03.2014 / filly / chestnut (eeAA)
SCID clear & CA clear

Price level: ***

Utopia D. is a sweet and uncomplicated young mare
sells in foal to SL Carrera and is due in May 2018

Click for more pics

Results:
2014: DSAH Licensing - endnote 9

Utopia D.

SC Dagash

Davidoff

Kubinec

Balaton

Kosmetika

Nikita

Narav Ibn Aswan

Nostalgia

Verbala

Balaton

Menes

Panagia

Verba

Murmansk

Pauza

Zeems Cheeky D.

Nazeem Ibn Jashana

FS Eternal Flame

Kubinec

Temtress MSC

Jashana

Esthasan Ibn Estopa

Jemira

Cody Makida D.

Makur

El Mokari

Malinka

Wimpy

Symba

Pashina
---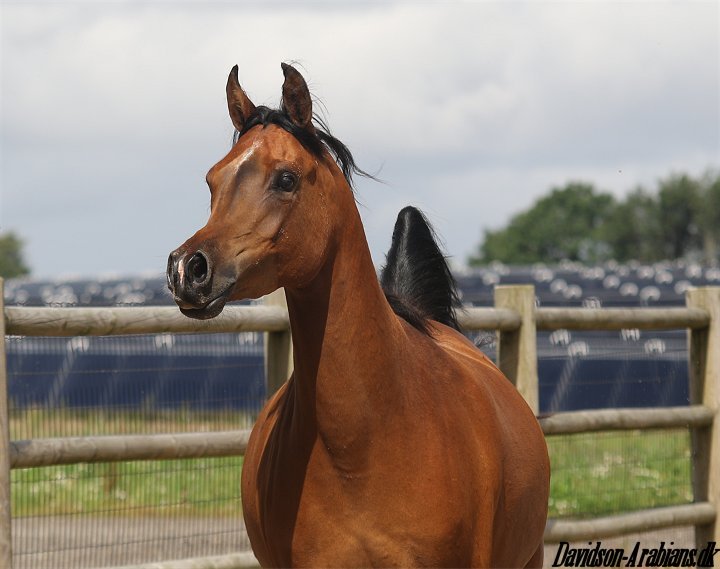 Dreamin Dido D.
(Duval x Zeems Cheeky D./Nazeem Ibn Jashana)
Born 11.03.2013 / filly / bay
SCID clear & CA clear

Price level: **

Sweet and uncomplicated mare.
Ready for breeding or performance.
Licensed with grade 1B and silver medalj

Click for more pics
Dreamin Dido D.

Duval

Vympel

Menes

Nabeg

Metropolia

Molva

Aswan

Monopolia

Derjave

Aswan

Nazeer

Yosreia

Polinezia

Nabeg

Polnoch

Zeems Cheeky D.

Nazeem Ibn Jashana

FS Eternal Flame

Kubinec

Temtress MSC

Jashana

Esthasan Ibn Estopa

Jemira

Cody Makida D.

Makur

El Mokari

Malinka

Wimpy

Symba

Pashina
---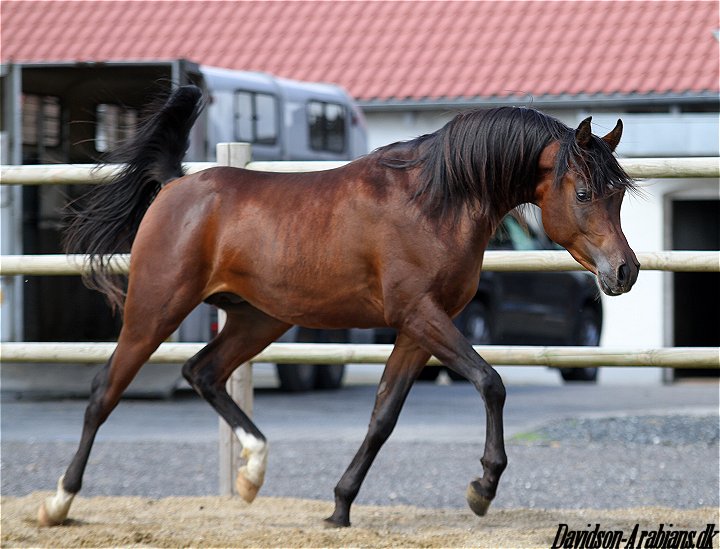 D. Double Up
(Van Gogh AM x Precious Marcia D./QR Marc)
Born 12.04.2014 /colt / bay (E?Aa)
SCID clear - CA clear

Price level: ****

Gallery

Exceptional colt with unique pedigree.
Super mover, cool mind and yet with great attitude.
We have 2 full brothers and have no use for both of them.

Video on request.

Show record:
2015: Int. B-show, Koksijde, Belgium - 89,17 points
2015: Eur. C-show, Strohen,Germany - 37,42 points
2015: Eur. C-show, Brecht, Belgium - 37,67 points

D. Double Up

Van Gogh AM

Magnum Psyche

Padron Psyche

Padron

Kilika

A Fancy Miracle

Sasaki

Medina Azahara

Ynazia HCF

AF Don Giovani

Aladd

Wind Charm

NV Tayma

Bey Shah

Bar Syl Baseyna

Precious Marcia D.

QR Marc

Marwan Al Shaquab

Gazal Al Shaqab

Little Liza Fame

Swete Dreams

Magic Dream Cahr

Kouream De Ment

AF Escada

Nadir I

Neman

Neschi

Palotazsa QQ

Kosmonaut

Pozjarka
---
---
---